KPS turn-key automatic gas sampling systems are installed at many of the major gas producing companies for custody transfers of fiscal metering purposes. The automatic gas sampling systems are primarily used to determine the BTU's, SGU and HC dew point of the gas streams. Registration using the automatic gas sampling systems can be important when clients are submitting claims, for the control of gas suppliers or to prevent unnecessary fiscal payments.
KPS automatic gas sampling systems are built in accordance with the ISO 8943/ISO 10715 standards. KPS is capable of providing a truly representative composite sample.
As most gas produced today is 'wet', with contaminants and some heavy hydrocarbons that will condense and contaminate the gas stream if incorrecty handled. These contaminants needed to be maintained within the sample at all stages of handling so as not to have a detrimental effect on the final analysis.
The KPS gas sampling systems prevent this deterioration in the quality of the sample. Multi-stage pressure reducers are used for this, which are also used for manual sampling, volume-based sampling, gas chromatographs etc. In addition, the KPS gas sampling systems have minimal calibration requirements and they prevent the need for the installation of complex field instrumentation.
In automatic gas sampling, it's just about the integration of both the purchase of the right components and the knowledge and experience of the complete proces.
KPS' knowledge and experience has contributed in developing unique low maintenance automatic sampling system designs. Furthermore, our automatic samplers are not just designed to be more sustainable, but also provide high accuracy based on previous experiences and CFD modelling software
The construction of an automatic gas sampling system for natural gas involves the combination of the right components and the integration and knowledge of the entire process. To build an automatic gas sampling system, it is necessary to design the component application in such a way that it can be integrated. This leads to a fully operational gas sampling system that meets customer specific requirements.
The KPS gas sampling system normally contains three gas samplers who can take three independent but comparable samples in a process loop. In addition, the KPS gas sampling systems sample a fixed volume that goes to 500 ml receivers at the most important intervals of the loading. With the gas sampling system, the three samples are stored in constant pressure bottles. The use of contant pressure bottles ensures that the sample remains stored under process conditions. Furthermore, these bottles ensure minimal atmospheric or mutual contamination and can store a larger number of small samples in order to maximize the representativeness of the sample. Each KPS gas sampling system can be automated using remote I/O's and DCS or PLC compatability so that the yield and reliability of the sampling can be monitored.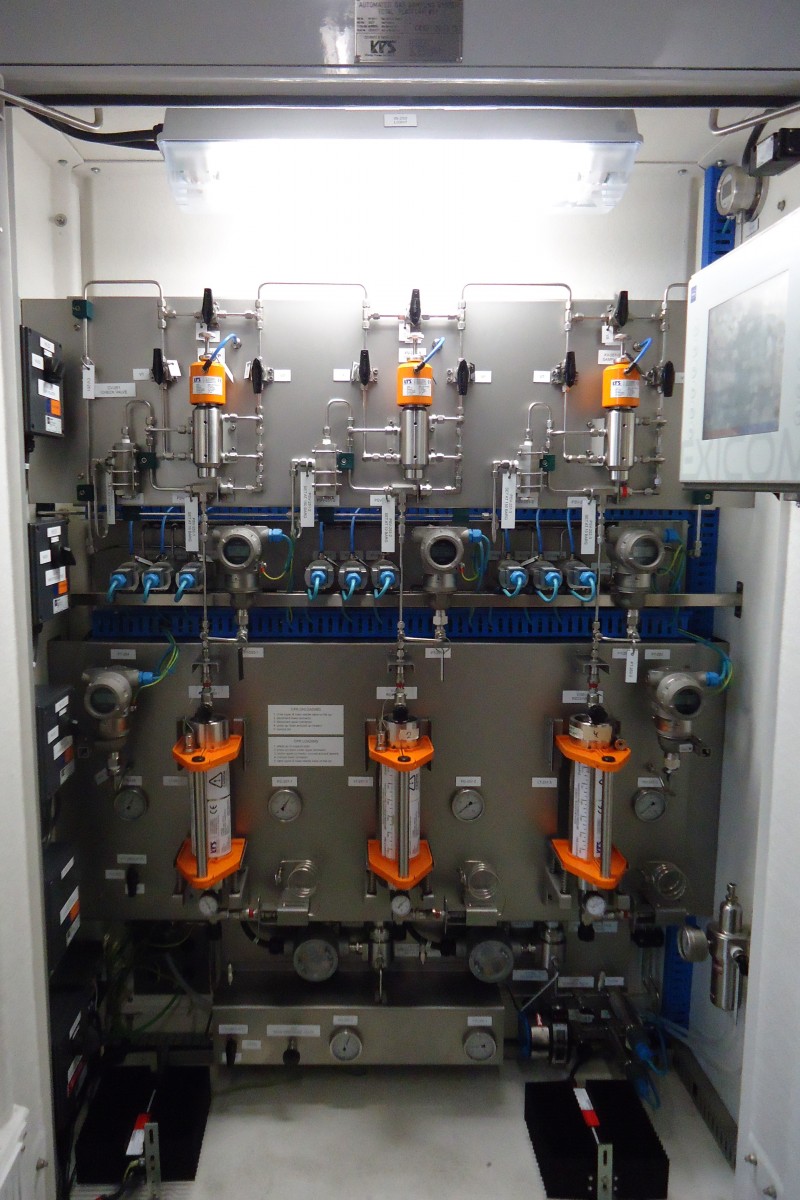 Get in contact with our experts!
Send your e-mail and we'll get in touch!